Senatorships
Submitted by MIJCIadmin on Sat, 07/07/2012 - 21:09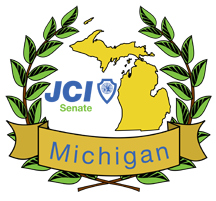 Senatorships are the highest honor a chapter can bestow on an active member / alumni (exhausted member). There are several steps and forms a chapter must use to award a senatorship.
First, the chapter must fill out the JCI form (step 1), have the chapter and state presidents signatures and submit with a check.
Second, once you have confirmation from JCI on the Senator #, you MUST complete the MI JCI Senate registration form (step 2) and submit with a second check. This second check covers the Senator's first year dues as well as their official name badge.
In the event a chapter has folded or does not have the financial means to award a Senatorship, the MI JCI Senate may sponsor one (up to one-per-year). To apply for this, please use the MI JCI Senate form provided below.
Please allow up to 6-9 weeks for processing.
Downloads:
Steps for giving a Senatorship (doc)
Step 1: Sponsored by Local Chapter / Individuals (pdf)
$300 check PLUS extra charges if paying by credit card, wiring funds and or express shipping.
Step 2: MI JCI Senate registration form (doc)
$35* for first year dues to Michigan AND name badge.
*New fee effective July 1, 2013
Can't follow the normal path to present a senatorship?
..........Sponsored by the MI JCI Senate (doc)
Upcoming MI JCI Senate Events
Check CALENDAR for more information, flyers, registration forms, etc.
January 13, 2018 -- Post Holiday Party -- Southgate, MI
January 18-23, 2018 -- US JCI Senate Winter Board, St Augustine, FL
January 26-28, 2018 -- Kentucky/Indiana Joint Meeting, Louisville, KY
February 10, 2018 -- Michigan JCI Meeitng, Lansing, MI (Jaycee Conference)
March 3, 2018 -- East Side Social -- Compuware Arena, Plymouth
March 16-18, 2018 -- Region V Spring Fling, Springfield, IL
April 13, 2018 -- Indiana Meeting, Brown County IN
April 27, 2018 -- Ohio's 50th Celebration,, Columbus, OH
May 5, 2018 -- Michigan JCI Senate Meeting, Gaylord, MI (Jaycee Conference)