History thru 2000
Submitted by MIJCIadmin on Sun, 07/08/2012 - 22:19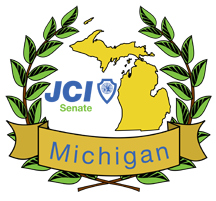 The JCI Senate was formed during the 1952 JCI World Congress in Australia: Canada's Phil Pugsley was the first JCI Senate President.
It took 20 additional years for the US JCI Senate to form, which it did at the 1972 National Jaycee Convention held in Atlanta. Jim O'Connell, Illinois, was elected our first USJCI Senate President.
MICHIGAN JCI SENATE FROM THE BEGINNING
The Michigan J.C.I. Senate, as we know it today, was officially launched on September 9, 1972, at the home of Chuck Nicholas in Eaton Rapids. Several Michigan Senators including Ray Huldin, Roger Lyons, Jim Willoughby, Dave Blakely and Chuck Nicholas were in attendance. Guests included U.S.J.C.I. President Jim O'Connell, Rep. Senators J.C.I. Bob Drdak and Chic Lantz. O'Connell informed the Michigan Senate of the newly formed national organization and requested Michigan's support. Ideas and programs for both the national and state groups were discussed and adopted. We were now on our way, firmly established.
The Michigan Senate annual meeting is held in February during Jaycee Winter Board meeting and Raymond "Doc" Huldin was elected president of the reorganized Senate. The new By-laws and Constitution were rewritten and adopted September 19, 1974. On October 2, 1974, we officially became affiliated with the United States Jaycee Senate.
History shows that the Michigan J.C.I. first began its existence in the 1960's and "Doc's" dedication and perseverance that we survived and grew and we are extremely grateful to him. On December 11, 1969, a special observance banquet was held in Lansing to celebrate the 25th anniversary of J.C.I. Special guest and honored speaker was Raymond A. Wolfe who organized the first J.C.I. meeting in Mexico City on December 11, 1944. It was at this historical meeting that Junior Chamber International was founded. Brother Wolfe was a member of the Grand Haven, Michigan chapter and at the banquet was presented with Senatorship #10500 by the Grand Haven Jaycees.
The Michigan J.C.I. Senate presently has a membership of over 200 and meetings are held monthly in various parts of the state and its newsletter, "The Filibuster", is published and mailed to all dues paid Senators quarterly. In addition to promoting its programs and furthering Jayceeism, a Speakers Bureau is provided for Jaycee chapters. Socials include bowling and golf tournaments and family picnic. Also, don't overlook our best known member, "Peter the Great". Presently there are over 900 proud Senators in Michigan.
The prominence of the Michigan Senate increased and we made our entry into the national scene in 1979 when Past President Glen Stone (1978-79) was elected National Vice President representing the Mid-American Institute. We were again represented when Past President Doug Hincker (1981-82) was elected in 1982 to this office in Phoenix.
We have made great strides in only a few short years and look forward to the future with great expectations. We're proud of the Michigan J.C.I. Senate.
Hal Krekorian #9695
Historian-Michigan J.C.I. Senate
Written January 1983
HISTORY (continued)
And so it was for the first 10 years. Now it's time to read about what has happened in the next 15 years.
Doug Hincker did not stop after being elected National V.P. He was elected the Thirteenth President of the U.S. J.C.I. Senate in Atlanta, Georgia. It was around that time we had increased our membership to 250 shooting for 300. During the year of the "Fez", we held a banquet honoring the Past Presidents of the Michigan J.C.I. Senate and the Michigan Jaycees with over 75 Senators in attendance.
In early 1986 we reached a milestone with 300 members. The following summer was our first experience with the Renaissance Festival by assisting the Holly Jaycees. June of 1986 saw the Michigan Senate send forth it's third Past President Bob Taylor, who was elected USJCI National V.P. for Region 5.
The 1987-88 budget is at a staggering $15,220. Another milestone that year was that we had our first women Senators: Michele Arman and Betty Cusick. In 1990 the Senate started running their own week-end of involvement at the Renaissance Festival. We also were involved in electing the fourth Past President from Michigan, Hal Krekorian to USJCI National V.P. for Region 5. At the National Convention in Louisville, Michigan Senate President Bob Boufford was honored as one of the ten outstanding State Presidents by USJCI President Lanny Heater. It was the first time that a Michigan Senate President had received that award. We continued to be the second largest state in the USJCI Senate. At the same meeting Hal Krekorian was elected Administrative V.P. of the USJCI Senate.
The 1991 National Convention in Minn/St.Paul was another day in the sun for the Michigan Senate. Our outgoing President Tom Humphrey was named one of the top 10 State Presidents, we also were honored and proud to have our own Hal Krekorian elected the Twentieth President of the USJCI Senate.
We held one of the most successful Post Holiday Parties in 1992 at the Redford Jaycees Hall with sixteen of the last nineteen past presidents in attendance. Pat Malac was honored for his efforts during his year by the USJCI Senate as one of the top 10 outstanding State Presidents. On a sorrowful note we lost one of our finest Senators and dear friend Tom Humphrey. We dedicated our involvement in USJCI Foundation in his honor.
1992-93 found the Senate being given the opportunity to be led by our first women President Michele Armen. By this time our budget had grown to 55,000. Once again one of own Past Presidents, Jerry Wendelken was elected USJCI National V.P. for Region 5.
August 20, 1993 was a very sad day in our history, when we saw the passing of our dear friend and Past President Hal Krekorian #9695.
In 1994-95 we changed the structure of our board of directors by directors by assigning V.P.'s by activities rather than geographic. We also inaugurated the USJCI Senate Hal Krekorian Memorial Golf Tournament to be held at the National Convention annually.
As we begin our Twenty-fifth year, we once again send one of our Past Presidents Ron Tyszkiewicz to be elected USJCI National V.P. for Region 5.
We have continued to support the Michigan Jaycees over the years with our assistance in every way we can. The continuance of Return the Favor, First Timers, Speaker's Bureau, Training Programs, and providing most of the judges for quarterly and year-end awards.
In Michigan's twenty five years the one thing that has never been forgotten was why we were formed and that which has always been in the forefront. "THAT THE BROTHERHOOD OF MAN TRANSCENDS THE
SOVEREIGNTY OF NATIONS".
Ron Tyszkiewicz #20553
Historian Michigan J.C.I. Senate.
Upcoming MI JCI Senate Events
Check CALENDAR for more information, flyers, registration forms, etc.
January 13, 2018 -- Post Holiday Party -- Southgate, MI
January 18-23, 2018 -- US JCI Senate Winter Board, St Augustine, FL
January 26-28, 2018 -- Kentucky/Indiana Joint Meeting, Louisville, KY
February 10, 2018 -- Michigan JCI Meeitng, Lansing, MI (Jaycee Conference)
March 3, 2018 -- East Side Social -- Compuware Arena, Plymouth
March 16-18, 2018 -- Region V Spring Fling, Springfield, IL
April 13, 2018 -- Indiana Meeting, Brown County IN
April 27, 2018 -- Ohio's 50th Celebration,, Columbus, OH
May 5, 2018 -- Michigan JCI Senate Meeting, Gaylord, MI (Jaycee Conference)